The Festive Season at Meikleour :
The Meikleour Arms Hotel and its Restaurant is open every day during the festive season.

- Troughout December we will be offering a festive menu as specials, either individually priced or as a set. The private dining room (very comfortable for 12 guests but we have done 14!) is ideal for office parties, just give us a call.
- Christmas Day: We will be serving Christmas Day lunch from 12 to 5pm. We have now 1 table of 4 available at 4pm due to a cancellation.
- New Year's Eve: We will be serving Hogmanay dinner from 7:30pm. Our accommodations are pretty full for Hogmanay we only have a 3 bedroom cottage available. However cancellations can happen so do give us a call and we wil contact you if there is any availability.
Stay with us over the festive season: our 5 spacious hotel cottages (from 1 to 3 bedrooms) and 11 stylish bedrooms will accommodate families and friends. We have 3 four poster bedrooms (Hortense, Flahaut and Mercer) which will delight boutique hotel afionados. Dogs can stay for free and are welcome in all cottages and downstairs bedrooms (which have dog friendly woodenfloors).
Our Rooms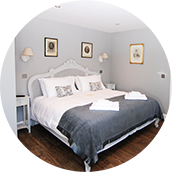 Our 11 bedrooms and 4 cottages exude comfort and elegant simplicity. Superb mattresses, lovely crisp linen and beautiful bathrooms. More...
See & Book
Gift Vouchers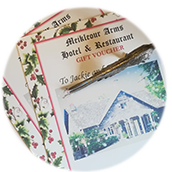 Give the gift of good country food, week-end away and beautiful sceneries with our gift vouchers.
Call Us