Our Wine of the Month: Le Nid Du Heron
This is our very own house wine, and it is from our owner Claire's region around Bordeaux. You will recognise on the bottle Meikleour Estate Coat of Arms and the heraldic heron of the clan Mercer…
Description: Traditional Claret combining vivid red fruit and floral notes with classic structure, - very approachable everyday food wine.
Vineyard Information: Grapes sourced from small-scale growers on the Right Bank of the Garonne River and from Boulbène, in the Entre-Deux-Mers Climate Coastal/continental
Soils: Clay-limestone
Winemaking Details: Grape Variety Merlot 61%, Cabernet Sauvignon 27%, & Cabernet Franc 12%
Fermentation: Fermented in temperature controlled stainless steel vats at 30 to 32º C to maximise extraction
Maturation: Free-run wine is returned to the vats for malolactic fermentation and ageing
Best with: Our steak and lamb dishes. This is a very typical claret lover's claret, a well-rounded blend of red and black fruits with classical backbone, well-integrated tannins and an elegant finish
Price: £4.95/125ml glass, £6.50 /175ml, £26.00 75cl Bottle
Alcohol: 13.5%
Full menu offered every day from 11:00 am to 11:00 pm. Last food order 21:00. You can eat in the bar, in the dining room or weather permitting in the garden. Reservation recommended on week-ends.
Our Seasonal Menu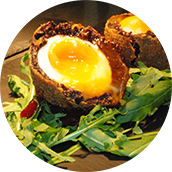 This is our main menu, with new dishes reflecting the seasons as well as our classics that we offer all year long. More...
Download
Specials Menu Sample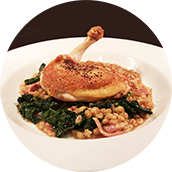 This is a sample of our weekly specials, with exciting dishes using as much as possible the produce of the estate.
More on Facebook...
Download