ENJOY A SAFE STAY WITH US
We have spent a huge amount of time and resources, thinking through your entire journey with us, to make our beloved Meikleour Arms as safe and welcoming as possible. It isn't about plush cashmere throws on huge beds, little touches and a helping hand to carry your luggage. This summer it's about being safe and hygienically clean and we are pleased to have passed several accreditations with flying colours. We have implemented protocols to keep you and our staff safe and would like to share them with you. We want to offer our guests a safe and relaxing environment, where they can feel confident that our thoughtful trained staff will continue to provide a warm welcome while maintaining the necessary social distance between themselves and our patrons. Our establishment was clean and airy before this pandemic, you will be reassured to hear that we have implemented enhanced cleaning protocols for the safety of everyone at Meikleour. Highest hygiene standards and social distancing can and must cooperate with a lovely atmosphere. For our returning residents and regulars it will feel and look different but will all know that one day it will return to normal if we do the right thing now. Please read our Covid Statement and you will find below our paperless room information folders (replacing the physical folders). Please note the following changes we are introducing during the pandemic:
- We follow a 2m social distancing policy (1m+ is permitted in Scotland but we are more comfortable with 2m)
- Hotel & Cottages: Checking is now 4pm to allow extra time for sanitasation (check out 11am). We have removed items that can't be steamed, laundered at 60C or easily desinfected have been removed: cashmere throw, scatter cushions, hair dryers, books, magazines... These items are available on request. If you do not want housekeeping to enter your room during your stay please let us know.
- Restaurant: we have removed more than half of our tables to allow a generous 2m gap. To manage a safe number of eating guests at any one time we have introduced 4 table sittings : 6pm | 6:30pm | 8:00pm | 8:30pm.
Please note that reservation is A MUST, you need to call us to book a table and we will ask for your mobile number. You will receive a confirmation text message from our app. We will keep your records for 21 days in order to adhere to the Test & Protect system. Guests without a booking won't be able to enter our premisses (see signage at the entance of the beergarden)
- Bar: drinking at the bar won't be possible (it has been fitted with a glass screen). Residents can drink in the lounge or in the new courtyard. Beer garden has been extended with a marquee. Reservation is also required (even for a drink in the garden) as we need to keep records of everyone visiting our premises.
- Menu: our head chef had to shorten the menu as he cannot operate with the full kitchen while social distancing. You will still find our classic dishes and although shorter the menu will change more often (printed on single use recycled paper), using produce from the estate and our own butchery.

** Hotel Reservation: 48H free cancellation policy. No pre-deposit required. This is better than any online booking agencies.
Our COVID 19 Statement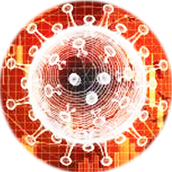 We have implemented enhanced cleaning protocols and measures for the safety of everyone. Things are going to feel a bit different but our passion is unchanged!

Read
Cottage info package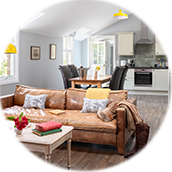 The cottage folders have been removed for hygiene reasons. Please read the following information
Cot. 1 | Cot. 2 | Cot. 3 | Cot. 4 | Roselea 3 bed

Room Info Package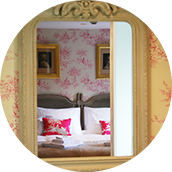 We have removed our room information folders in our bedroom for hygiene reasons. Please take the time to read the Info Pack for a pleasant stay.
Read
Press & Awards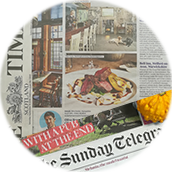 National and local press, magazines, TV programs see what we have been up to ...
Wee Look
Vouchers
Our gift vouchers make wonderful presents, redeemable for a dinner, a stay, champagne on arrival... To orders, just give us a call . Personalised vouchers can be sent by post or email.