Eating at the Meikleour Arms
The restaurant at the Meikleour Arms is a bit of a local institution. A traditional British country pub with a Gallic zest would be a good way to describe it.
Being part of a farming estate means that we are very lucky to have direct access to beautiful local produce. The meat comes from our fields or partnering farms and is expertly hung and cut by our in-house butcher, good husbandry and provenance is so important. Same with our ice creams which come from a small neighboring dairy… Lindsay the head gardener grows unusual vegetables, berries and herbs in our walled garden. Our fish is delivered daily from the boats in Arbroath or caught on our lochs, and our delicious scallops are carefully hand-dived on the West Coast by people we know and trust.
Our chef Jack Marsh and his team excel in offering uncomplicated spot-on food using the best ingredient that our countryside can offer. Our in-house butcher is an expert in venison and game and we dry-cure our charcuterie on the estate. The estate has a long-established Franco Scottish heritage and it reflects on our dishes… Elaborating our Seasonal Menu is a family affair between our chefs and owner Sam Mercer Nairne and his Bordeaux-born wife Claire. Our Special Menu is more adventurous, often featuring game, venison, wild produce or more unusual seafood or interesting cut of meat.
We hope you will enjoy the wines we selected from all over the world. Despite a penchant for good interesting clarets (we have our very own house wine thanks to family ties), we picked some lovely crus from the New World as well as Italy and Spain.
Full menu offered every day from 11:00 am to 11:00 pm. Last food order 21:00. You can eat in the bar, in the dining room or weather permitting in the garden. Reservation recommended on week-ends. Dogs welcome in the bar, private dining room and garden.
The Scottish Field, April 2018: "I always liked this place but the new team have managed to improve significantly and put more power to their arm"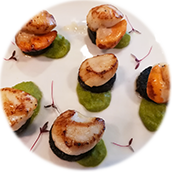 This is our main menu , with new dishes reflecting the seasons as well as our classics that we offer all year long.
Private Parties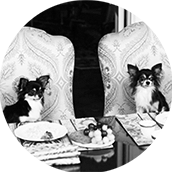 Our private dining room is ideal for party up to 12 guests. Give us a call to book.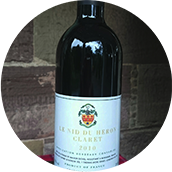 Every month discover a new wine that we have particularly enjoyed, and find out why.