Fishing with the Meikleour Arms
The Meikleour Arms, once known as the Meikleour Hotel Fishing Lodge, has been caring for anglers in some way or another for nearly 200 years. We are conveniently close to the lower and Middle Tay beats and it is on our estate that the river Isla joins the Tay on what is recognised as being some of the finest Spring salmon fishing in the UK, Islamouth. We own and run our very own salmon fishing on Meikleour and Upper Islamouth, offering superlative fishing experience to all anglers and aspiring ones. We regularly run fly-fishing courses for groups or individual and can organise fishing package for an unforgetable fishing holiday in Perthshire. We also specialise in corporate entertainment event, our spacious boathouse and stunning lunch hut being ideal venues. Please contact our sister company Meikleour Fishings for details or call (+44) 1250 883424. Our 2022 prices are here, you can also book online via Fishpal.
Every year on the 15th of January Meikleour Estate hosts the official opening of the River Tay salmon fishing season. This is a wonderful traditional event that anglers and non-anglers alike enjoy. Anybody is welcome to fish our stretch of the Tay for a small donation to a local youth charity. This is also the day where the prestigious Malloch Trophy is awarded to the angler who has caught (and safely released) the largest salmon on a Scottish river during the previous season.
The salmon season on the Tay, Isla and Ericht is from the 15th of January to the 15th of October. Salmon fishing is not permitted on Sunday in Scotland. Please note that the Tay is "catch & release". To book fishing with us call 01250 883424 or go on our fishing website. To book some great fishing around us we recommend the onlinebooking service FishTay, they will be able to help you with all your fishing requirement in Scotland.

Hotel Cottages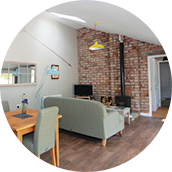 Our 4 hotel cottages make an ideal base for anglers and are close to the river. More...
Book
Learn Fly-fishing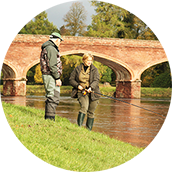 The quickest way to enjoy fly-fishing is to learn how to cast from a friendly professional.. You will find just that at Meikleour Fishings