Stay on our historical Scottish Country Estate
Meikleour Estate, established in the 12th century, is a dynamic diversified family business which has been supporting its local community for generations. From luxury cottages to state of the art farming, from office rental to award winning restaurant, from salmon fishing to biomass supplier, we are proud to be an enterprising place to work as well as an idyllic holiday destination in Scotland.
The Mercers of Perth, merchants of early medieval French origin, acquired the barony Meikleour in 1162. The estate has unique French connections, through trade, wars and marriages: exile to France during the Jacobite rising, exile to Scotland during the French Revolution, intimate links to the Napoleonic family… even today, the current estate custodians have both nationalities. Our bedroom names (Flahaut, Hortense, Lansdowne…), the paintings and old photos in the Inn all have a story to tell. We hope you will enjoy this journey between past and present.
A fascinating book about the estate "Peep through the Beech Hedge and find Meikleour" written by historian Margaret Laing is available. Ask us for details or see here.
Rooms & Cottages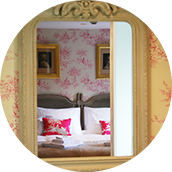 Our 11 bedrooms and 5 cottages exude comfort and elegant simplicity. Superb mattresses, lovely crisp linen and beautiful bathrooms. More...
See & Book
Restaurant Menus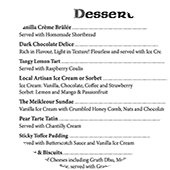 We excel in offering well prepared good local country food with a Gallic tinge. Check our weekly specials More...
Menu (pdf)
Tay Salmon Fishing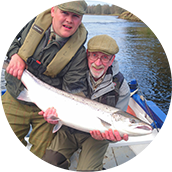 Our beat Meikleour & Upper Islamouth is a paradise for beginners and seasoned anglers alike. Equipment free to borrow, superb facilities and lovely ghillies.
Try